Niantic and Warner Bros. Games San Francisco unveiled the first official images of the Harry Potter gameplay : Wizards Unite , the Pokémon GO- style game based on the universe of witches and wizards created by JK Rowling. Harry Potter Wizards Unite will combine content and characters from the original series with those from the Fantastic Animals movies and Where to Find them, inviting us to prepare our wand, mix potions and learn new spells to prevent something known as "Calamity" from coming to light the secrets of the Magic World. Next, you can see what Harry Potter Wizards Unite will look like in his first images:
Have you left wanting more?
Well there are three small fragments of Harry Potter gameplay: Wizards Unite that allow us to get a better idea of ​​how the Niantic game will look for smartphones in motion:
And that's not all! Niantic has also unveiled a lot of new details of Harry Potter Wizards Unite . The Calamity has fallen on the Magic World, causing artifacts, creatures, people and even memories to begin to seem mysteriously in the Muggle world. Witches and wizards from around the world must come together to solve this mystery and "remove" all the magical elements from the eyes of the Muggles. Our adventure begins after joining as new recruits of the Statue of Secrecy Task Force , a new department created by the Ministry of Magic and the International Confederation of Magicians with the objective of investigating and containing the Calamity.
The Magis of the Foundables
Faithful to the style of Pokémon GO , Harry Potter Wizards Unite invites us to go out to play. When doing so, the map will show pieces of magic that indicate the presence of the Foundables , the name given to the magical elements transported to the Muggle world. Scraps can be found everywhere, but some are prone to appear in certain real-world locations, such as parks, banks, municipal buildings, universities, libraries, monuments, zoos. art galleries and much more.
To "catch" the foundables , we must choose between a variety of spells, cast it, keep it stable and send it back to the Magic World, which earns us unique rewards that we can follow in the Game Registry.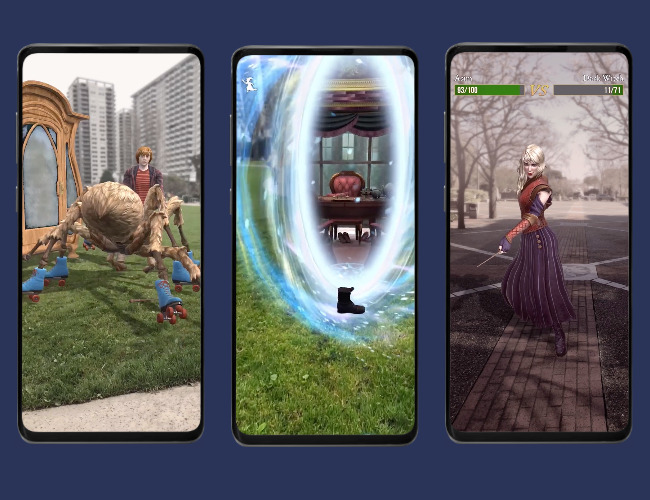 The Magic of Harry Potter Wizards Unite
When using magic in Harry Potter Wizards Unite we will consume the nickname "spell power". To recharge it, we must pass by inns, located in real world locations, to get food and drink that allows us to replenish energy (something like Pokémon's Pokémon GO). When exploring, we will also come across ingredients that can be used to mix potions that will help us in different ways. The ingredients that we find will depend on different factors, such as the environment, time or time of day.
We must also pay attention to Portmanteaus , who can be unlocked to reveal Portkeys that will take us to iconic locations in the Magic World, such as Ollivander's magic wand shop. For the first time, we can visit locations in 360º using Augmented Reality technology.
And, of course, Harry Potter Wizards Unite will also allow us to measure ourselves with other magicians. The duels will take place in locations known as Fortresses, where we will find Magical Challenges, multiplayer battles in real time against dangerous enemies, such as Death Eaters or Dementors. We will not want to face these dangers alone, so we will have to gather a group of friends to face the higher level threats and thus obtain the less usual Foundables .
To develop our magical abilities, in Harry Potter Wizards Unite we can choose to specialize in different professions: Aurors, Magizoologists and Teachers each have unique abilities that will be useful in different situations, particularly during the Magic Challenges. We will have to join other wizards and witches, taking into account the professions and skills of each one, in order to put things in our favor.
The pre-registration to access Harry Potter: Wizards Unite is now available on Google Play , that is, for Android devices. If you have an account in the Google app store, just sign up to let us know when the game is available (you can also unsubscribe at any time, by pressing the same button).